this is cute man, im not sure why he's called cute man, it's not very cute to cut people up like that.
- glod
this is elect man. i think he's a politician or something. i'm not sure if monsteropolis is ready for a gay politician. maybe in a few years elect man! it worked for harvey milk (until he got assassinated)!
- glod
Ben Stiller is BOMBOMBOMB Man in Meet the Parents
On the plane he says "BOM BOM BOM BOMBOMBABOM" until megan mAN shots hime
- Bud
AWWW SHIET TIMEMANS ALL UP IN YOUR SHIT YEH DAWG I CANT SHOOT STRAIGHT ALL GOOD BUT ITS AIGHT CUZ WE GON' GET ALL CRUNK EN SHIIIIEEEEETTTT
- Rynen10K
Time for me to comment on this picture! Time Man just gets more disgusting every time he is drawn.
- glod
fun fact: Oil man was originally cast as the black woman in Tom & Jerry
- Bud
little known fact about metal blades: they cut throw stuff so cleanly that it immediately seals off the wounds. you know like lightsabers!
- Diddgery
BUBL MN LIKES VIDJO GAEMS
- Rynen10K
carsh man does not kno the mening of words like "too soon" or "sense of decency"
- Rynen10K
woodman goes back to his roots (GET IT) and hangs out with other bosses who are made out of trees, including whispy, facetree, and exdeath.
- Diddgery
Needs more Kite-Eating Tree
- Rynen10K
Chocolate Quick Man maeks a mess when he mixes Quek in his moms kitcvhen!
Aks your parints first kid-mans!
- Bud
this is hate man. he hates megaman a lot so he sets him on fire. he hates bubbles the most because they are for babies. he is a pyromaniac and likes burning and destroying things.
- glod
he's a box! HE'S A BOX!!!!!!
- Diddgery
THIS IS FLASHMAN HE IS POPULAR ON NEWGROUNDS FOR BEIN THE FLASH ARTST TAHT MAKES THOSE MOVEIS
mega-man is sad becuz he thought macromediaflashman wuz his friend
- KW
i did it! i drew airman!! and he's referencing a different song about him this time.
- Diddgery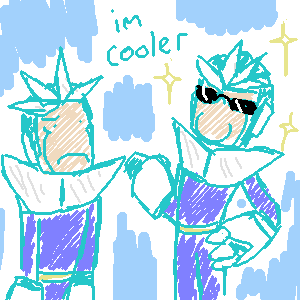 tihs is twin man
he has a twin
- Dr. Vox
nedl man more like buhtayto man
- Rynen10K
smashed butatos and grivvy
- Bud
I DON"T KNOW HOW SPARK MAN CAN PLAY A GUITAR WITH THOSE SPIEKS FOR HANDS BUT ITS OK HIS THEME MUSIC IS GRATE
- Diddgery
At first, Top Man had a hard time adjusting to the motion sickness.
- MW
After the snacks incident, Magnet Man wasn't particularly liked by his flatmates.
- Jaabi
And here be a ninja-like Mega Man d00d. Ultra sketchy style GO!
- VGJustice
fun fact: did you know that shadow man is a robot built by aliens that dr. wily reprogrammed? no, really!
- Diddgery
SNAKE MAN RUINED ONLINE MARJO KART FOR EVERYONE
- glod
Bright Man is so bright, he tells the sun to f*ck off. This makes the sun very angry, so he leaves to go kill Marjo.
Bright Man is the smartest of all Robot Masters. He is so bright that he is brighter than Dr. Wily. He once tried to sneak into Dr. Wily's office to overthrow his tyranny, but it's hard to be sneaky with a big lightbulb on your head.
- glod
toadman forgot what vidjeo gaem he was in again
- Diddgery
Drill Man regrets not getting that copyright patent.
- MW
Mr Drill is spinning in his grave
- Bud
PHAROH MAN IS A VERY ABUSIVE PHAROAH TO HIS SLAVES AND HE WHIPS MEGAMAN SO HE WILL DRAG HIS BRICKS TO MAKE HIS TOMBS! JUST TO BE MORE STICT, HE STANDS ON EVERY BRIK TO WHIP MEGAMAN FOREVER.
MEGAMN BLEEDS HIS ROBOTC BLOOD FRUM HIS BREAKING SPINE BUT AS LONG AS PARAOH CAN DIE AND HAVE A GOOD AFTRLIFE ALL IS WELL!
- KW
Skull Man was actually supposed to be a different boss, but by the time Mega Man got there, he was already basically dead and decomposed, down to his robot skeleton.
Good job picking on a dead guy, Mega Man.
- glod
Bily Mays once tried to sell Dust Mans to Uhmerrika homes, but they didn't sell well due to Megan Mans killsing them and they killed belly meys 2
- Bud
DO YOU HAVE BLOODSTAINS IN YOUR UNDERWEAR? CHIPOTLAWAY!
- Rynen10K
dive man has underwater adventures with a fish. i dunno.
- Diddgery
Ring Ring Ring Ring Ring Ring Ring
RINGMAN A PHOOOOONE
- Rynen10K
do you remember the episode of the mega man cartoon where they went to the moon? that was the episode with crystal man in it! what a crazy show that was
- Diddgery
"I see you fighting a robot named Sheep Man in your future..."
"I'd like my money back, please."
- Rynen10K
i was halfway through with drawing this when i thought "wait there is a galaxy man, that would make a lot more sense" but then i would have to start all over and i don't want to waste a perfectly good drawing. sorry :(
- Diddgery
Gyroman can't eat the greek food he craves because dr wily gave him an insatiable hunger for it and no mouth. what a dick.
- Rynen10K
I HAVE NO MOUTH AND I MUST EAT
- Diddgery
chargeman ties his victims to the train tracks before delivering the final blow
- Rynen10K
DUDLEY DO-RIGHT WHERE ARE YOU
- Diddgery
Star Man is a star and as a star he is approached with many robits who want autographs auto is one of those robots and the pun is that his name is auto and he wants an autograph and his name is in the word of the thing he wants
- Bud
I actually kinda forget what Auto looks like, but my memory made him a mix of Clank and Captain Quark
- Bud
Wave Man is programmed to wave a friendly hello to all Robots. Mega Man is programmed to murder Wave Man.
- Bud
this is true beauty. you people wouldnt know what art is if i wrote art on a brick and hit you on the head a bunch with it >:( >:(
- Rynen10K
half of my robot master draws are just references to other video games
- Diddgery
NAPALM MAN!
HANDS ARE SMALL-TIME!
- Iron Peanut
Blizzard man petting a white cat in the midst of a field of bunnies during a snowstorm.
- MW
Fantastic.
- Iron Peanut
when will the palefaces learn to respect nature :'(
- Diddgery
I COULDN"T THINK OF ANYTHING CLEVER FOR KNIGHTMAN SO I JUST DREW HIM BY HIMSELF
I think he's my favorite from MM6.
- Diddgery
man MM6 has the most boring robot masters I swear.
fun fact: wind man was designed by an american.
- Diddgery
I have obviously played this Mega Man game.
- MW
http://lmgtfy.com/?q=plant+man+mega+man
- Diddgery
I like my version better.
- MW
I am under the impression that Centaur Man was the result of an accident in which a robot master and a robot horse were both heavily damaged. The robot horse had its head completely crushed, leaving the rest of its body useless. The robot master's legs were destroyed beyond repair, but the rest of his body was salvageable.
The robot's creator was not able to pay the funds needed to build new legs for his prized robot master, so instead he recycled the robot horse's lower body as new legs for his robot master. And thus, Centaur Man was born!
That is the best reason I can think of for Centaur Man to exist. Because someone going "let's build a robot that is like a centaur" is just too stupid, even for the Mega Man world (where robots built from wood are apparently all the rage).
- Diddgery
his lower half is probably a Giddyup Buttercup
- glod
FLAME MAN, OIL BARON AND MIDDLE EASTERN STEREOTYPE.
(not pictured: Flame Man exploding because making a fire-themed robot master who is obsessed with oil was probably a bad idea)
- Diddgery
not even yamato man knows what a yamato is.
yamato man's sp.def rose sharply!
- Rynen 10K
spring man is plant man's best friend, spring man makes it warm and sunny so that plant man can bloom.
- glod
oh oh burps man et to much now his tab lardd!
- Rynen 10K
HE GON BLOW UP
- Diddgery
Mega Man & Bass CD data
He can levitate by the gravity controller installed in his body.
"I am on cloud nine!"
Good point: Couch potato
Bad point: Can't wear shoes
Like: Rainy season
Dislike: Lightning rod
- Diddgery
shademan wants to be in the next twilight movie and impresses the ladies with his shirtlessness.
- Rynen 10K
but does he sparkle
- glod
Junkman is just as good as all the other robots! So why does Wily stick him with garbage duty?
- Diddgery
Freeze Man freezing Mega Man. Sometimes I wonder if his ice helmet, shoulder pads, and knee pads actually do anything. I mean, ice isn't exactly the toughest material. So why are you guarding your sensitive areas with ice when you could just use, i dunno, metal, like the rest of your body?
- glod
SLASH MAN TRIES TO BE LIKE THE GUY HE WAS NAMED AFTER AND PLAY GUITAR BUT HE KEEPS CUTTING HIS STRINGS WITH HIS RAZOR FINGERS
AFTER THIS HE BECOMES AN ANGRY FURRY AND TRIES TO KILL MEGA MANS
- glod
the scorch wheel was an awesome weapon before it got super nerfed by capcom.
- Rynen 10K
I was thinkin more along the lines of Johnny Turbo but this is fine too
- Zura
forstman punches megamns face a bunch
- Rynen 10K
frostman more like iglooman am i right
- Diddgery
Nothing about POPSICLES!? Redraw.
- Bud
gonna ditch that body
- Dr. Vox
I'm Torso man! I use sword so good i cut myself in half and LIVED
- Bud
TENGU MAN SAYS MEGA MAN IS JUST A KID! MEG AMANS IS SAD BECAUSE HE IS MORE THAN JUST A ROBOT KID! DIE WILY!
- Diddgery
Which is weird because Megaman is undoubtedly older than Tenguman
- KW
im awkwa man but you may cal me 'hansom guy" ;) ;) jk lol
- Rynen 10K
How come every robot master in MM8 is gay for mega man?
"You can call me HANDSOME GUY"
"See you in my dreams"
"That Felt gooood"
- Bud
HAHAHAHAHAHAHAHAHAHA IM FUNNY
- Rynen 10K
i think whoever designed clown man hated children. clowns are scary enough, they do not need electricity-based powers and long gangly arms to strangle you with.
- Diddgery
Funnily enough, all the Robot Masters in the series, except those in MM1 and half of them in MM8 were fan submissions. In MM8, Capcom's artists created half the robots, and when they were shown off to the public, they gave fans three or four "base models" for robot masters and asked for submissions.
Clown Man was submitted based on a "long armed" robot.Search Man was made based on a "two headed" robot model.Sword Man was made based on a "two part" robot model.
That's why some of the MM8 robot masters are really weird. I learned this all from this book, the Mega Man Complete Works. Look it up, it's a great read.
- glod
astro man is angry because i was drawing him but then something weird happened and the image was erased!! so i had to start over but i didn't feel like doing much effort anymore so SORRY ASTRO MAN.
- Diddgery
he is called splashwoman but i dont get it wats a splashwo? some1 plz help why is this guy called splashwo man?
- KW
Splashwo man does an cannonball and everyones like "SPLASHWO!"
- Rynen 10K
if nicolas cage was a robot master his weakness would be hornet chaser because NOT THE BEES NOT THE BEEES
AAAAAAAAAAAAAAA
- Diddgery
MY EYES
- Dr. Vox
jool man kicks megan man in the rocks
megan man needs jool sheeld to protect his junk but he cant get it until he beats jool man
- Rynen 10K
he could also use junk shield!
- Diddgery
Magmar Man bruns megan man and he dies up to his neck
- Bud
dr light built plug man to help maintain electronics but all plug man does is play wow all day and drink mountain dew (even though robots aren't supposed to drink that)! he eventually got tired of paying plug man's subscription fee so plug man got mad and went renegade. he lied and said it was because of dr. wily later
- Diddgery
Tornado Man and Gyro Man go out to get lunch together, and Tornado Man orders a gyro just to make Gyro Man angry!! What a jerk you guys!!
- Diddgery
concrete man plays team fortress 2 as the scout, under the screen name "BONKreteMan"
- Rynen 10K
BONK BONK BONK BONK BONK
sometimes Plug Man takes breaks from WoW to play as the Engineer with Concrete Man! Dr. Light is like "YOU GUYS ARE THE WORST ROBOTS I EVER MADE! YOU ARE EVEN WORSE THAN AUTO"
- Diddgery
Galaxy Man, Galaxy Man, size of the entire galaxy man.
This guy is the easiest to fight in MM9 (for me) so I usually go for him first. But his weapon isn't my favorite. Oh well!
- glod
Galaxy Man has some of the best level music though.
- KW
I usually start with GalaxyMan, then HornetMan (Blackhole Bomb and MegaBuster combo works better than Magma Bazooka, IMO), then JewelMan. Those 3 are the best weapons in the game :O
- Rynen 10K
fake man teaches mega man that just because he is fighting for good doesn't mean that it's okay to shoot whatever he wants!
did anyone get the fake man downloadable content anyways? i considered it but never got it
- Diddgery
The extra level? I got it. It's pretty difficult, and Fake Man himself is really hard to beat too (if you don't exploit Jewel Satellite).
- KW
I live in NZ. We have sheep that are like 14:1 humens. So I know sheep.
Wily-face had a hard time choosing what one to steal and robotise.
I like the sky. I hate the grass.
- Jaabi
Shepmin was filmd at lord of the rinsgs???
- Bud
Strike Man likes playing Wii Sports but because of his gigantic robo-wrists he can't use the wrist strap. Tragedy ensues.
- Diddgery
i leik baysbal
- Bud
COMMANDO MAN IS COOL
- glod
snake man + commando man = cobra commander??
- Diddgery
BROmando man OO-RAH
- Bud
- Dr. Vox
chill man was created by al gore to teach us about global warming!!! unfortunately nobody listened to him because his head is an icicle
- Diddgery
I suppose it would be easy for him to speak of a mere two degree Celsius margin when his attacks require minus 40 degrees of pressure.
- MW
Sorry pharaoman, looks like they made a "better" version of you.
- Mico27
The buldge is beautiful.
- Bud
Thats where he keeps his nuts and bolts... for when he feels having a snack.
- Mico27
Wedsley Spineps steals da THUNDAH from blaed man bcuz he is da origginle blade man capmcom sotle the idewa
- Bud
CRASH MAN RIDES HIS NEW SHINY NITRO MAN BUT F*CK HE FORGOT HE CANT DRIVE HE HAS NO HANDS!!!11 >:( >:( >:(
- Bud
Return to Archive Main